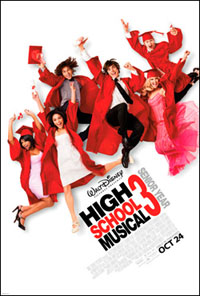 I'm sorry, I haven't been updating in the last few weeks – nothing really major happened but a lot of small tidbits became available. I'll start with a round up on HSM3 and will follow on the other two projects a bit later.
The most obvious news: filming started yesterday, 3 May 2008 in SLC. Disney has already started their marketing despite the fact that the cameras just started rolling. They've already released the first poster (left – big version in the gallery). We also got to see and hear the entire main cast (minus Lucas), director, writer and producers in a press conference on Friday, 2 May 2008 to announce the start of production. They didn't give away much about the movie itself, most talk was about how excited everyone was to be back, blah blah. The best online video of the press conference can be found on Utah's Fox site (Part one is here, part two you find in the sidebar of the same page). Their video is basically straight through without any edits or cuts.
Along with the press conference, Disney also issues a press release (2 May 2008):
Wildcats Return to Utah to Film Walt Disney Pictures' Big Screen Feature "High School Musical 3: Senior Year"

SALT LAKE CITY–(BUSINESS WIRE)–Principal photography kicks off May 3 on Walt Disney Pictures' upcoming theatrical production "High School Musical 3: Senior Year." The all-new feature film will be shot on location in Salt Lake City, Utah, and is set for release in theaters October 24, 2008. Walt Disney Studios Motion Pictures distributes.

Zac Efron, Vanessa Hudgens, Ashley Tisdale, Lucas Grabeel, Corbin Bleu and Monique Coleman return to the roles they created in the international smash hit "High School Musical" and the record-breaking "High School Musical 2." Kenny Ortega, who helmed the first two films for Disney Channel, once again directs, adding new duties as executive producer. "High School Musical 3: Senior Year" is produced by Bill Borden and Barry Rosenbush; Don Schain serves as co-producer. Peter Barsocchini, veteran HSM writer, penned the screenplay.

"High School Musical 3: Senior Year" finds high school seniors Troy and Gabriella facing the prospect of separation as they head off to different colleges. Joined by the rest of the Wildcats, they stage an elaborate spring musical reflecting their experiences, hopes and fears about the future. With incredible new music and exciting dance numbers designed to take maximum advantage of the big screen, this motion picture extravaganza delivers plenty of high-energy entertainment from East High's talented ensemble.

A trio of new stars joins the original cast in "High School Musical 3: Senior Year" as sophomore Wildcats at East High. An international casting search involving more than 1000 teen actors across the United States, Canada and the United Kingdom led to the casting of three rising young talents: Matt Prokop as "Jimmie 'the Rocket' Zara" ("Hannah Montana," "The Office"); Justin Martin as "Donny Dion" (TV's "A Raisin in the Sun," upcoming films "The Express," "Black Water Transit," "The Soloist"); and British actress Jemma McKenzie-Brown as "Tiara Gold" ("The Amazing Mrs. Pritchard," "M.I. High").

Other actors reprising their roles from the first two Disney Channel movies include Olesya Rulin, Chris Warren Jr., Ryne Sanborn, KayCee Stroh, Bart Johnson, Alyson Reed and Leslie Wing. Behind-the-scenes talent includes director of photography Daniel Aranyó ("High School Musical 2," "The Cheetah Girls 2"), production designer Mark Hofeling ("High School Musical," "High School Musical 2," "Minutemen"), and costume designer Caroline B. Marx ("The Killing Room," TV's "Gilmore Girls"). Director Ortega again shares choreographer duties with Charles "Chucky" Klapow and Bonnie Story — the three earned an Outstanding Choreography Emmy for "High School Musical." Composer David Lawrence also returns.

About the franchise…

Disney's "High School Musical" premiered in January 2006 on Disney Channel U.S. and posted the highest ever ratings for a Disney Channel Original Movie at the time. It went on to become a smash hit internationally, airing on 27 Disney Channels and free-to-air broadcasters worldwide. It has reached more than 250 million viewers in more than 20 languages across 100 countries. It was the first TV movie to be offered on the iTunes Music Store, and was the #1 TV movie on DVD in 2006. That same year, the movie's soundtrack was the #1 ranked album.

"High School Musical" delivered licensed amateur and professional touring stage productions, a best-selling junior novel, a popular consumer products franchise at mass retailers, a themed show at Disneyland Parks and Resorts in Anaheim, Orlando and Paris, a sold-out 42-date arena concert tour in North America and Latin America, and a popular touring ice show around the world. Adding to its success, it won two Emmy Awards, a DGA Award, an Imagen Award and a Director's Guild of America Award, among other honors. It received a Billboard Music Award (Soundtrack of the Year) and was nominated for an American Music Award.

"High School Musical 2" was ranked the #1 basic cable telecast of all time following its August 17, 2007, premiere (18.6 million viewers) and thus far has been seen by 187 million total worldwide viewers in 24 languages. The "High School Musical 2" DVD release was the top-selling TV property on DVD for 2007. The movie's soundtrack is triple Platinum.

"What team? WILDCATS!"
I can't believe that Disney ended an official press release with "What team? WILDCATS!". LOL. The press release doesn't give much new information but it confirms the minor cast (including full character names for the new cast members), release date and the general plot as we already knew.
One final tidbit – the cast has been caught by paparazzi on set during some dressing rehearsal, so we got a few pics of Zac in his new basketball uniform. You can see them in the gallery here.